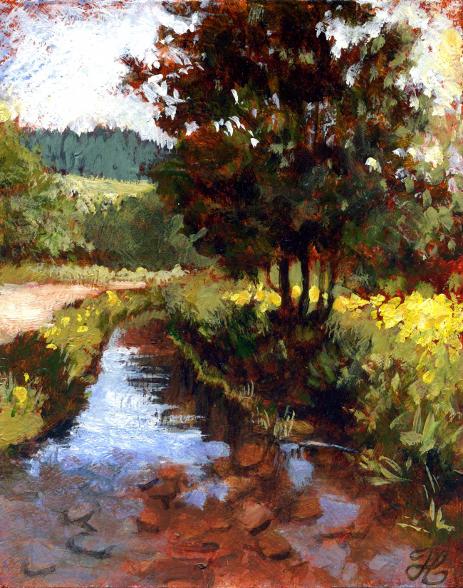 About
Hazel has lived in the Derbyshire all her life and has therefore a special connection with the landscape. By keeping to a small scale, she uses this "restriction" to help her distil the essence of a scene. Although she works mainly in acrylics for their versatility when out of doors, usually finishing the painting all in one sitting, she also uses oil paints whenever practical. She usually carries watercolours with her and enjoys their adaptability for quick colour sketching. Using a very limited palette, she depicts the landscape of the hills and valleys, moors and fields. She paints whatever stops her in her tracks, preferring the subtleties of an unusual, overlooked view to the popular scene.
Over the last seven years she has been studying the art of lino and screen printing, copper etching and wood engraving. Concentrating on lino for the present, she has produced a series of fun and colourful designs based on flowers, canal boats, trees, seed heads and landscapes.
In 2011 Hazel opened "Saffron Studio", a small art gallery displaying her work, also offering tuition in painting and printmaking. While it was a valuable experience meeting the customers and selling a substantial number of paintings, she took the decision to close the gallery at the end of January 2014. Never intended to be a long-term occupation, the gradual increase in overheads and a restraint on the freedom of personal artistry finally helped her to decide to close.
Hazel is currently working on a new series of small landscapes, in small box-like "floating" frames. Some landscapes have special meanings to us. Some landscapes offer comfort and reassurance. In a world of confusion and contradiction, Hazel has crafted keep-sake landscapes – sanctuary for the bewildered.
Having spent time studying both alone and within the context of art education, she now returns to others the knowledge and experience gained through contact with other artists, and runs "Field Breaks Art". She is available to give talks and demonstrations to art groups and societies.
Follow Hazel's facebook page to find out recent news and projects.